AHCCCS Member News
Important Notice About AHCCCS Coverage for Certain Members
November 20, 2015
Legal refugees are eligible for full AHCCCS benefits. Due to a systems error, some refugees were changed by mistake to emergency services only instead of full benefits.
Please tell us right away if you are a refugee and your AHCCCS benefits are for emergency services only. We will make sure your coverage is correct. If you are eligible for full AHCCCS benefits, we will make sure your AHCCCS benefits are changed to full coverage back to the date of the mistake.
You can reach us by:
Phone: 1-855-HEA-PLUS (1-855-432-7587)
Going to a local DES office. Tell DES you were changed from full AHCCCS coverage to emergency services by mistake. Be sure to bring your immigration papers and numbers with you. Click here to find an office near you.
AVISO IMPORTANTE SOBRE BENEFICIOS DE AHCCCS
Los refugiados legales tienen derecho a beneficios completos de AHCCCS. Debido a un error del sistema de computadoras, a algunos refugiados les cambiaron por equivocación sus beneficios de completos a únicamente servicios de emergencia.
Por favor, avísenos de inmediato si es refugiado/a y sus beneficios de AHCCCS son solamente para servicios de emergencia. Nos aseguraremos de que tenga la cobertura correcta. Si tuviera derecho a beneficios completos de AHCCCS, nos aseguraremos de que se asignen sus beneficios de vuelta a completos retroactivos al día de la equivocación.
Podrá comunicarse con nosotros mediante:
Teléfono: 1-855-HEA-PLUS (1-855-432-7587)
Una oficina local del DES. Infórmele al DES que le cambiaron por equivocación de cobertura completa de AHCCCS a cobertura de servicios de emergencia. Asegúrese de traer consigo sus documentos y números de inmigración. Haga clic aquí para conseguir la oficina que le quede más cerca.
طريق الخطأ إلى خدمات الطوارئ فقط بدلا من الفوائد الكاملة
من فضلك أخبرنا على الفور إذا كانت المنافع الخاصة بك قد تغيرت لخدمات الطوارئ فقط، ونحن سوف نساعدك نتأكد من أنك ستحصل
على فوائد "أكسس" الصحيحة
إذا كان يحق لك الحصول على إعانات ومساعدات "أكسس" الكاملة، فسوف توضع الفوائد كاملة لك منذ تاريخ الخطأ .
يمكنك الاتصال بنا عن طريق::
(1-855-432-7587) الهاتف
أو
المحلي DES يمكنك الذهاب إلى مكتب الـ "دي ئي أس"
عند الذهاب لمكتب الـ "دي ئي أس"، إخبرهم أن مساعدات "أكسس" قد تغيرت عن طريق الخطأ من مساعدات كامله إلى حالات الطوارق
فقط. تأكد من إحضار أوراق الهجرة والأرقام الخاصة بك معك.
Click here أضغط هنا لتجد المكتب القريب منك
ILANI MUHIMU KUHUSU MUSAADA WA AHCCCS
Wakimbizi wa kisheria wako wana haki chanjo za AHCCCS. Kutokana na makosa ya mifumo, Kulikuwa baadhi ya wakimbizi ambayo musaada zawo za AHCCCS yamebadhilishwa kutoka misaada kamili wa AHCCCS kwenye misaada waa huduma ya dharura na hii ilifanyika kwa makosa.
Tafadhali tueleze sisi mara moja kama misaada wako ni huduma ya dharura kipekee. Tuta hakikisha umepata chanjo sahihi wa AHCCCS. Kama una haki waa misaada wa AHCCCS, wewe utawekwa misaada kamili wa AHCCCS na Tuta hakikisha itakuwa nyuma kuanzia tarehe ya makosa.
Unaweza kufikia nasi kwa:
Simu: 1-855-HEA-PLUS (1-855-432-7587)
Kwenda kwa ofisi wa DES karibu na sehemu yako. Mwambie DES huduma zako walikuwa umebadilika kutoka chanjo kamili wa AHCCCS kwenye huduma za dharura kimakosa. Hakikisha kuleta vitambulisho ya uhamiaji na nambari. Bonyeza hapa kupata ofisi karibu na wewe.
OGAYSIIS MUHIIM AH OO KHUSEEYA TAAKULADA AHCCCS
Qaxootiga sharciga ah waxay u qalmaan taakulo buuxda oo AHCCCS. Khalad aaladaha ah dartii, Qaxootiga qaar ka mid ah ayaa si khalad ah taakuladoodii AHCCCS laga dhigay adeega deg-dega ah lagana badalay mid buuxda.
Fadlan nala socodsii isla markiiba Hadii taakuladaada ay tahay mid adeega deg-dega ah oo kaliya. Waxaan xaqiijinaynaa inaad hesho caymiska saxda ah. Hadii aad uqalanto taakulo AHCCCS ah oo buuxda waxaan xaqiijinaynaa inaan dib kaaga soo bilaabaynaa taariikhda khaladku dhacay.
Waxaad nagala soo xiriiri kartaa:
Taleefoonka: 1-855-HEA-PLUS (1-855-432-7587)
Ama tag xafiiska kuugu dhow ee DES. Usheeg laanta DES in aan si khalad ah caymiskaagii AHCCCSka laga badalay mid buuxda laguna badalay adeega deg-dega ah. Xasuusnow inaad la'imaato waraagahaaga socdaal iyo nambaradooda. Halkan Riix Si aad u hesho hafiiska kuugu dhow.
https://eol.azdes.gov/
ITANGAZO RIHAMBAYE RIRABANA N'UBUFASHA BUTANGWA NA AHCCCS
Impunzi zujuje ivya ngombwa nizo zishobora guhabwa ubufasha butangwa na AHCCCS. Bitewe n'amakosa yakozwe n'imashini, impunzi zimwe zahawe ubufasha bugenewe abafise ibibazo vyihutirwa gusa kandi bategerezwa koronka ubufasha bwuzuye.
Turasavye ko wotubarira ubu nyene, niba uri impunzi, kandi niba ubufasha uronka ari ubugenewe abafise ibibazo vyihutirwa gusa. Tuzokora uko dushoboye ngo ubwishingizi ugenewe bube ubw'ukuri. Nimba wujuje ivya ngombwa biguhesha ubufasha bwuzuye butangwa na AHCCCS,tuzokora uko dushoboye ngo ubwo bufasha bwongere buhinduke ubwishingizi bwuzuye, gutangurira ku igenekerezo ikosa ryakoreweko.
Ingene mwodushikako:
Hamagara nomero 1-855-HEA-PLUS (1-855-432-7587)
Ja ku biro vya DES. Ubabarire ko ubwishingizi bwuzuye wari usanganwe, bwahindutse ubugenewe ibibazo vyihutirwa gusa bitewe n'ikosa ryakozwe. Ntiwibagire kwitwaza ivya ngombwa bisabwa abinjira n'abasohoka mu gihugu. Donda ngaha,... urabona ibiro bikwegereye.
https://eol.azdes.gov/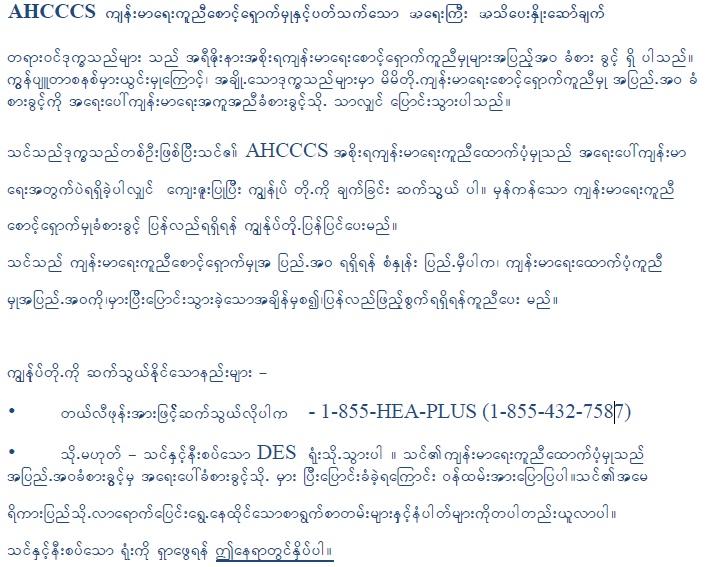 https://eol.azdes.gov/
Coverage of Incontinence Briefs for ALTCS Members
February 10, 2015
On December 15, 2014, the United States Supreme Court refused to hear AHCCCS' appeal of the Court of Appeals decision in Alvarez v. Betlach which upheld coverage of incontinence briefs for preventive purposes in the lawsuit brought by several adult ALTCS members. As a result of the Supreme Court action, the court injunction went into effect. Beginning December 15, 2014, incontinence briefs for ALTCS members age 21 years and older are covered when medically necessary for preventive purposes. Coverage requirements for this population can be located in Chapter 300 of the AHCCCS Medical Policy Manual.