AHCCCS Whole Person Care Initiative (WPCI)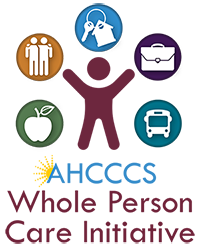 There is growing national attention on the impact social factors can have on a person's health and well-being. It is believed that a person's socio-economic status, behaviors, and physical environment contribute more to health outcomes than access to health care. AHCCCS understands these complex issues and has historically worked to provide housing, employment, criminal justice, non-emergency transportation as well as home and community-based services interventions to our members, which facilitates the appropriate utilization of Medicaid services, while also utilizing a broad range of funding sources for services that are not available under the Arizona Medicaid program.
AHCCCS announces the Whole Person Care Initiative to augment our options to address social risk factors. We welcome our community's continued partnership as we strive to improve the health of Arizonans. Additional programmatic details will be released over the next several months. If you would like to sign up for email notifications when new information please click the link above.
If you would like to provide AHCCCS with input on the Whole Person Care Initiative please email us at WPCI@azahcccs.gov. Please note, this email address is only used for sending feedback to AHCCCS on the initiative and you will not receive a reply.