Behavioral Health
AHCCCS Complete Care (ACC) Began October 1, 2018
RBHAs are Aligned With ACC Plan Names
Especially for American Indian Members
TRBHAs did not change on October 1, 2018
Members can get integrated (physical and behavioral health services) through the ACC Plan or American Indian Health Program (AIHP)
Members may continue to receive behavioral health services from a TRBHA (where available) if enrolled with AIHP
No change to services or enrollment for members with Serious Mental Illness
Members can still access services from IHS/638 facility at any time regardless of enrollment
Tribal members continue to have choice at any time
Most AHCCCS members receive all behavioral health services through their chosen ACC plan instead of from a RBHA.
Services include but are not limited to:
Mental health counseling
Psychiatric and psychologist services
However, the RBHAs and TRBHAs continue to serve:
Foster children enrolled in Mercy Care Department of Child Safety Comprehensive Health Plan (DCS CHP), including those Mercy Care DCS CHP members who have a CRS condition
Members enrolled with DES/DDD
Individuals determined to have a Serious Mental Illness.
RBHA-covered services did not change for these members. RBHAs also continue to provide crisis, grant funded and state-only funded services. To align with their respective ACC health plans in each geographic service area, the names of the RBHAs changed on Oct. 1. 2018.
Geographic Service Area
Prior RBHA Name
RBHA Name
Starting October 1, 2018
North
Health Choice Integrated Care (HCIC)
Health Choice Arizona
Central
Mercy Maricopa Integrated Care (MMIC)
Mercy Care
South
Cenpatico Integrated Care (CIC)
Arizona Complete Health – Complete Care Plan
Click a link below to locate the Tribal/Regional Behavioral Health Authority (T/RBHA) nearest you
Note: GSA stands for Geographic Service Area.
If you have questions about how to access behavioral health services, follow this flow chart. Click on the image to open the PDF.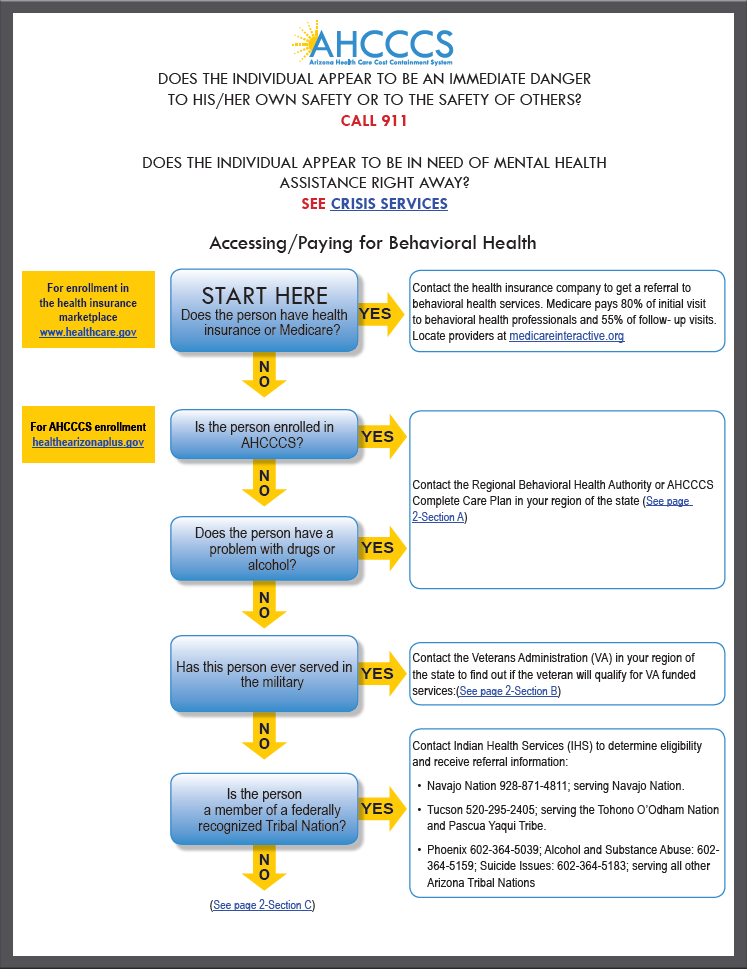 Accessing/Paying for Behavioral
Health.pdf
To find organizations providing behavioral health services that are owned and/or operated by Peers and Family Members please contact the Office of Individual and Family Affairs at oifa@azahcccs.gov or call 1-800-654-8713. To find a specific provider, please visit the individual T/RBHA website above and search its online directory of providers. The directory includes detailed information for all providers including peer- and family-run providers.