Your Doctor Is In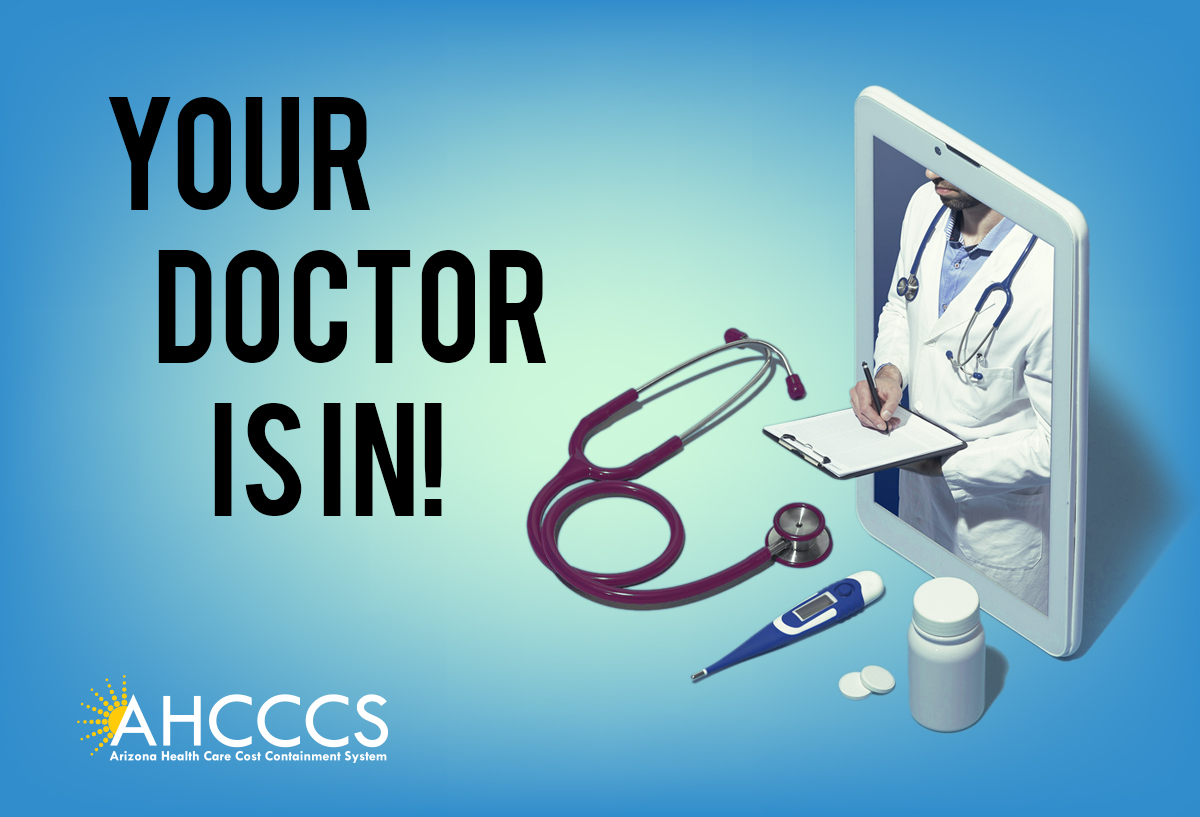 While medical needs do not stop during a pandemic, individuals may feel scared to visit the doctor or keep regular health care appointments. AHCCCS members can be assured that their "doctor is in" and can help with medical needs in ways that keep patients safe and healthy during the COVID-19 emergency.
While telehealth may be new to many members, it is an easy way to obtain health care from the comfort and safety of your home. AHCCCS members are encouraged to call their health plan or their provider to learn more about using telehealth options available during the COVID-19 emergency.
When an appointment requires an in-person visit, providers are taking extra precautions in their offices to ensure social distancing and patient safety in their physical spaces.
PEDIATRICS and MATERNAL HEALTH
Children need regular health care screening, vaccines, and other consultative appointments. Well-child visits and vaccinations are essential services and help ensure children are protected against deadly vaccine-preventable diseases. As stay-at-home orders begin to be lifted, it's essential that parents make sure their children continue to be protected from deadly vaccine-preventable diseases. Parents should not be afraid to keep their pediatric appointments for screenings, vaccines and developmental check-ups. You can also talk to your pediatrician about nutrition, safety in the home and at school, and preventing the spread of COVID-19.
CHRONIC CONDITIONS
AHCCCS members with chronic conditions, such as heart and lung disease, diabetes, and cancer, need regular appointments with health care providers. Many of these appointments can be conducted by telehealth, eliminating the need for a patient who may be compromised to expose themselves to further risk. Regular visits with your doctor over video chat or telephone while you're stable can help your doctor advise you how to avoid your condition worsening. It can also help your doctor identify early signs that you need more help, such as medication changes. Call your doctor about routine telehealth visits for your chronic condition. Call your provider to discuss how to treat chronic conditions with telehealth.
BEHAVIORAL & MENTAL HEALTH SERVICES
AHCCCS members may be surprised to learn that behavioral health providers are also able to schedule appointments, provide individual and group counseling, facilitate virtual support groups, and address behavioral health needs by telehealth, teleconference, or telephone. Behavioral health providers recognize this is an especially stressful time and people may be experiencing anxiety, depression or fears due to the COVID-19 emergency. Taking care of your behavioral health, mental and emotional needs is a priority during these challenging times.
SURGERIES
Because of social distancing measures, Arizona has been able to ensure capacity at our hospitals to address COVID-19 treatment needs, and therefore are once again accepting elective surgeries. AHCCCS members who may have put elective surgeries on hold during the pandemic are encouraged to contact their provider to reschedule.
PREVENTATIVE CARE
Even some preventative appointments or pre-appointment consultations can be conducted via telehealth. It's especially important to keep your and your children's vaccinations up to date. Your doctor can advise you on the safest ways to keep your preventive care up to date.
As we work through the public health measures necessary to stem the spread of COVID-19, AHCCCS health care providers have increased their ability to "see" patients electronically...and safely.