Resources for Members with Autism Spectrum Disorder (ASD)
According to the Center for Disease Control, Autism Spectrum Disorder (ASD) is a developmental disability that affects an estimated 1 in 44 children in the United States. ASD is characterized by significant issues with social skills, communication, and repetitive behaviors. Since it is a spectrum disorder, the degree to which a person's functioning is impacted varies greatly from one individual to the next.
Some common signs and symptoms of ASD include:
Having a hard time with schedule changes,
Avoiding eye contact,
Wanting to be alone,
Having difficulty with understand feelings,
Performing repetitious movements,
Having difficulty with relating to others
Preferring no physical affection
Struggling to know how to socially interact with peers,
Having strong reactions to sounds, and
Preferring routine.
While there is no cure for ASD, there are effective treatments. Each individual diagnosed with ASD has their own strengths and challenges and therefore treatment plans should be individualized to meet the unique needs. Research suggests early intervention can improve symptoms for those under the age of three. However, ASD can be difficult to diagnose prior to age two. Services are available to children under age three at risk for developmental delays without an ASD diagnosis under the Individuals with Disabilities Education Act (IDEA).
For more information about services for those under the age of three see the AzEIP web page
For an evaluation of developmental delays for those over the age of three, contact your local school district.
How To Be Evaluated for an ASD Diagnosis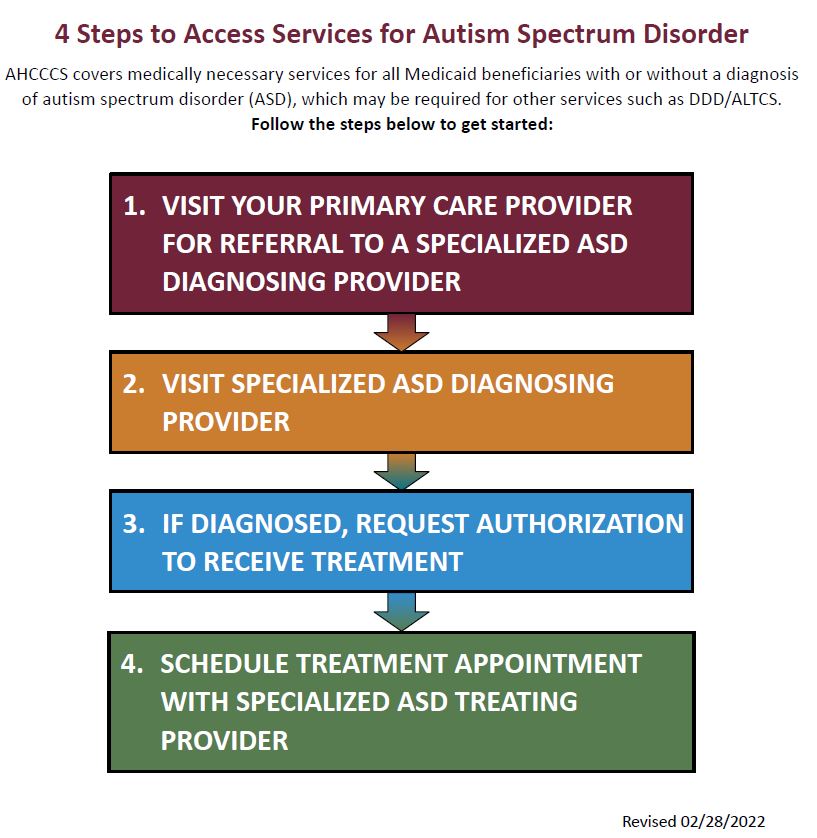 Appendix F: Flow Chart for Families and Members
Additional Resources:
Autism Spectrum Disorder (ASD) Advisory Committee Overview
In April 2015 a statewide ASD Advisory Committee was established by the Governor's Office, representing a broad range of stakeholders to address and provide recommendations to strengthen services for the treatment of Autism Spectrum Disorder (ASD). Information about the Committee regarding membership, workgroups, goals, meeting dates and minutes are saved in the AHCCCS Document Library linked at the bottom of this page.
Public Comments
AHCCCS welcomes all public comments related to services for the treatment of ASD in the AHCCCS program. Please send all comments to ASD@azahcccs.gov.